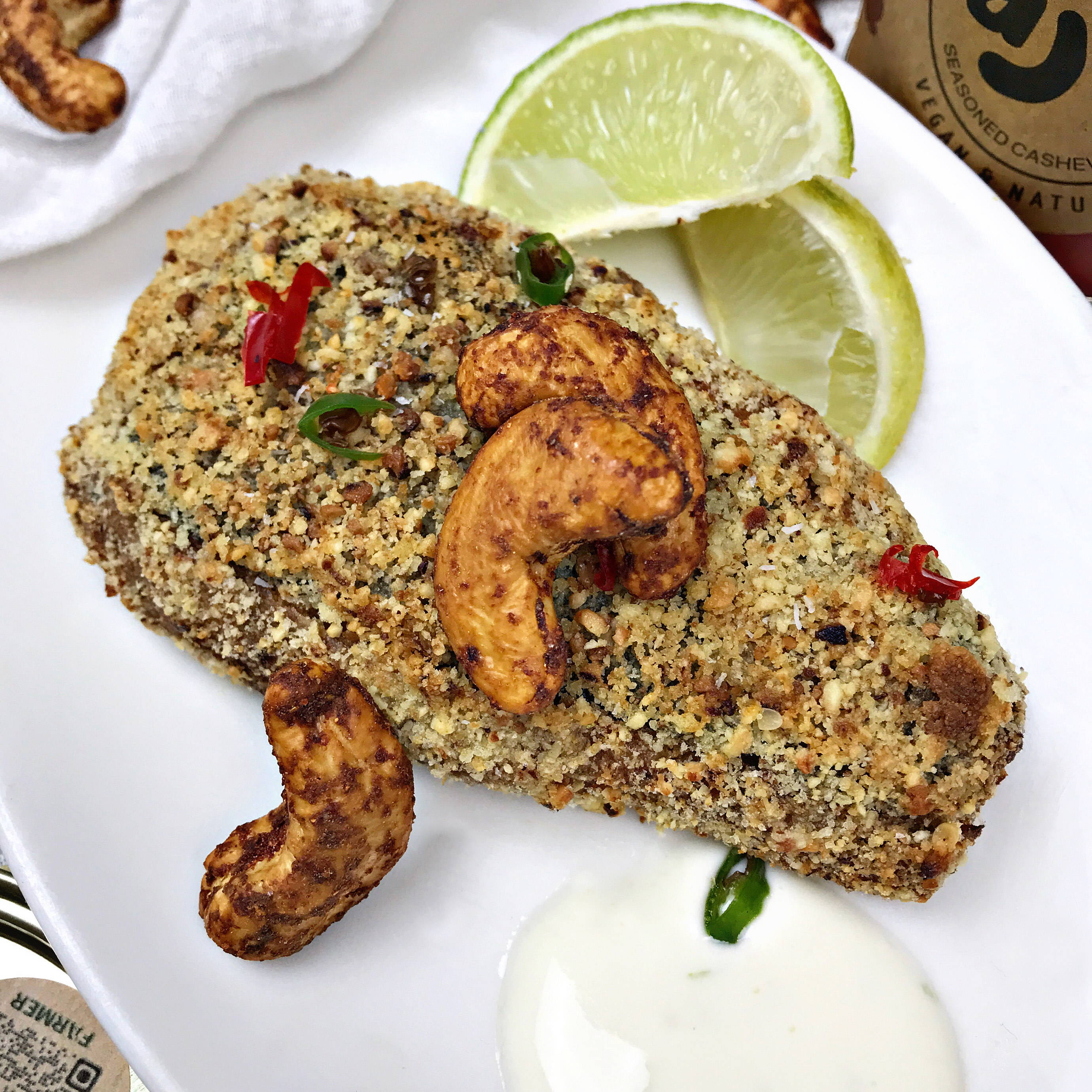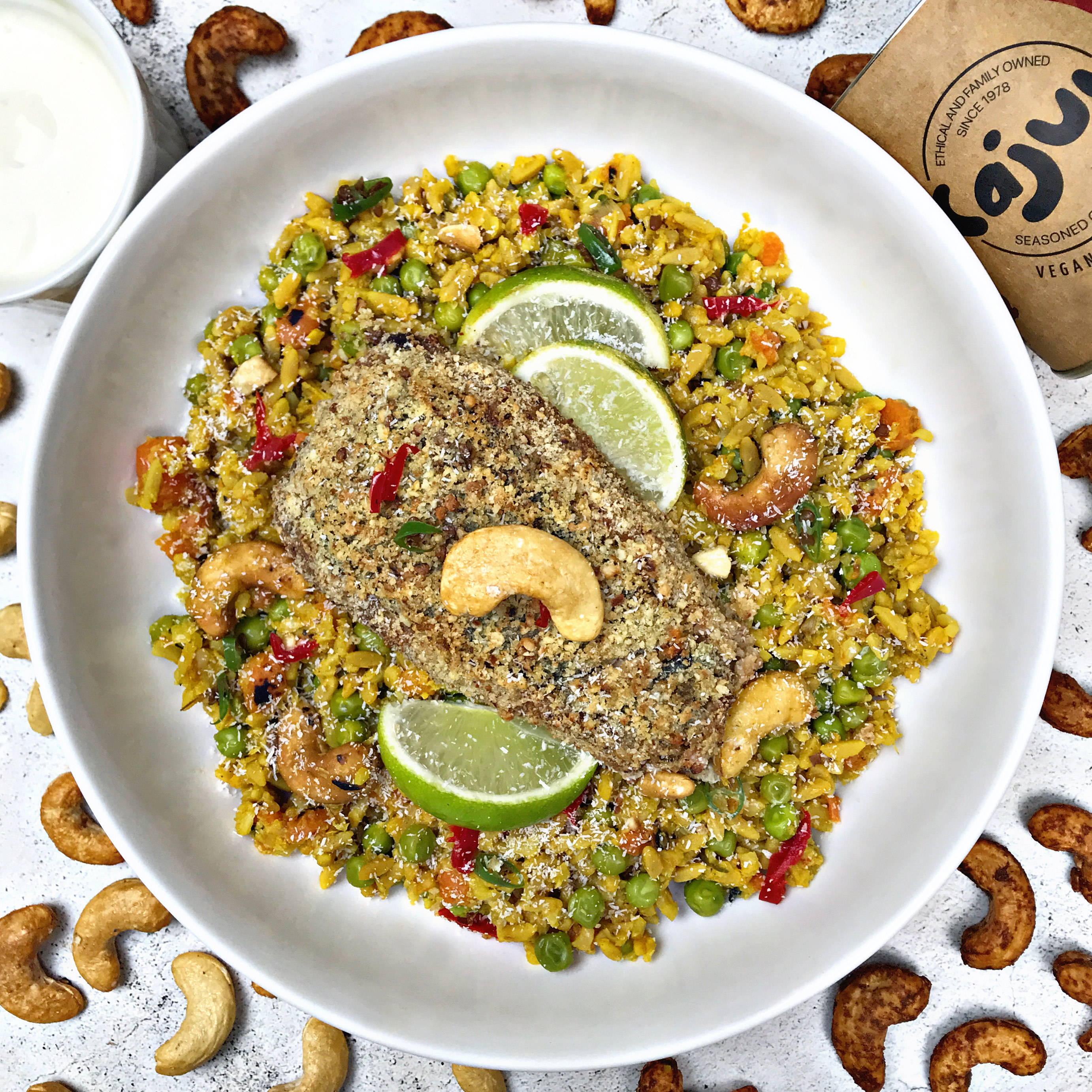 Love to cook and try new recipes?
Cook with Cajuu allows you to source new and exciting recipes that elevate the humble yet versatile cashew nut.
We've curated and collated and a variety of different concoctions - which one will you be trying today?
We're very grateful to all of you who have contributed your delicious recipes, and we encourange you to continue to send your creations in so other people may also enjoy them.
Share your cashew cooking gems by tagging us @cajuuoffical and using the the hashtag #CajuuCommunity
Vegan Cashew Crumpet Stack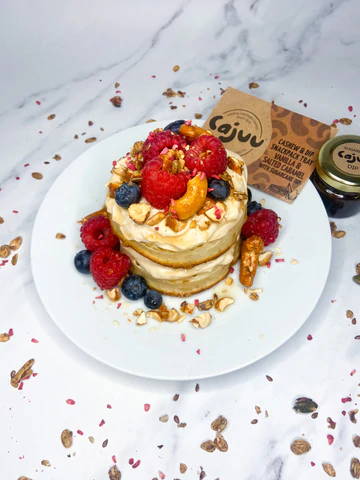 Created by munchingwithmolly_x on Instagram!
Recipe
2 crumpets
Cajuu Vanilla and Salted Caramel Cashews with a Sugarcane Dip
Soy yoghurt
Salted caramel soy isolate myvegan protein powder (optional)
Freeze dried raspberry pieces
Granola
Raspberries
Blueberries
Method
Prepare crumpets as preferred.
Combine protein powder and yogurt together and spread generously onto each crumpets, then assemble into stack.
Add your toppings, however you like- remember, it won't be a Cashew Crumpet Stack without the Cajuu cashews!
Mango, Kiwi, Vanilla & Passionfruit Porridge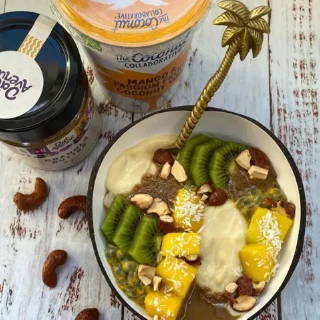 Created by life_of_jessm on Instagram!
Recipe
40g Porridge Oats (Quaker Oats were used here)
15g Protein World Vanilla protein powder
50g Coconut Collab mango and passionfruit coconut yoghurt
15g Oat Avenue granola butter
Cajuu Mango Moa Cashews (as many as you want)
Desiccated coconut
As much mango, passion fruit and kiwi as you like
Method
Prepare porridge following brand instructions.
Once done, add all your toppings! Don't be shy, have as much as you'd like.
20 Minute Stir Fried Honey Ginger Sesame Noodles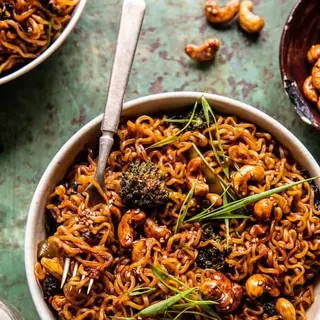 Created by mealprepgram
Ingredients for 6
1/2 cup cashews (we recommend Cajuu Lake Natron Cashews)
2 teaspoons sriracha
1/2 cup plus 1 tablespoon low sodium soy sauce or tamari
4 tablespoons honey (maple or brown sugar, if vegan)
2 tablespoons rice vinegar
1 tablespoon creamy peanut butter
1 tablespoon molasses
black pepper
8 ounces ramen noodles, Chinese egg noodles, or rice noodles
2 tablespoons sesame or extra virgin olive oil
3 cups mixed stir fry vegetables
2 tablespoons fresh grated ginger
1-2 tablespoons garlic chili oil
2 tablespoons raw sesame seeds
2 green onions, chopped
Method
Preheat the oven to 400° F. Line a baking sheet with parchment. Spread the cashews out on the baking sheet and bake 5 minutes. Add the sriracha, 1 tablespoon soy sauce, 2 teaspoons honey, and the sesame seeds. Toss to combine. Bake another 5 minutes, until toasted.
Meanwhile, cook the noodles according to package directions, drain.
To make the sauce. In a jar, whisk together 1/2 cup soy sauce. 3 tablespoons honey, the rice vinegar, peanut butter, molasses, and a big pinch of black pepper.
Heat the sesame oil in a large skillet over medium-high heat. Add the vegetables and stir-fry until softened, about 5 minutes. Stir in the ginger, cook another minute, then pour in the sauce and bring to a boil over medium-high heat. Stir in the noodles and chili garlic oil. Toss to combine, cooking another 3-5 minutes until the sauce coats the noodles.
Serve the noodles topped with cashews and green onions.
Created by kessis.kitchen on Instagram!
Recipe for 3
200g pasta
600g cauliflower
2 zucchini
200g peas
1 carrot
2 cloves of garlic
30g Lake Natron Cashews
150ml oat milk
3 tbsp. Nutritional yeast
1 tsp. Veggie broth powder
Salt, pepper, nutmeg
Method
Soak cashews in hot water.
Bake the cauliflower, zucchini, garlic and carrot with some oil, salt and pepper until they're a little crispy (about 30 minutes).
Drain the cashews and blend with oat milk, nutritional yeast, veggie broth, salt, pepper and nutmeg.
Cook pasta, add to a baking dish and mix in the peas and the oven baked veggies.
Cover up with tin foil and bake for 30 minutes.
Created by thrivingonplants!
Recipe for 2-3 servings
1/2 cup cashews (we recommend Cajuu Lake Natron Cashews)
200g firm tofu (1/2 block), cut into bite sized pieces and pan-fried
1 small onion, sliced into wedges
1 carrot, thinly sliced
1 red capsicum, thinly sliced
1 bunch bokchoy, leaves separated
Sauce
2 tbsp light soy sauce
3 tsp brown sugar
1 clove garlic, minced
Pinch of black pepper
1 tsp cornflour/cornstarch
1/4 cup water
Splash of dark soy sauce, for colour (optional)
Method
Add the cashews into a dry pan and toast for 2 minutes until golden. Set aside.
In the meantime, add all the sauce ingredients into a small bowl and mix well.
Heat up your fry pan over high heat and add in the onion, carrot and capsicum. Fry for 1-2 minutes until lightly charred then add a splash of water and cook for another minute. Add in the bokchoy, an extra splash of water and cook until water has evaporated and bokchoy is almost cooked through.
Add in the tofu, cashews and the prepared sauce. Cook for 1 minute, tossing well until the sauce thickens and the ingredients are well coated. If you prefer it saucier, add in an extra 1/4 cup water!
Garnish with green onion and sesame seeds. Serve immediately with a bowl of rice, enjoy!!
Created by brittandherplate on Instagram!
Recipe
How to make the shortcrust:
1.25 cups plain
1/4 tsp salt
1/2 cup margarine (cold)
1/2 cup granulated sugar
3 tbsp ice water
How to make the filling:
2 ripe avocados
3/4 cup coconut yoghurt
2 tbsp cornstarch
1 lime, zested
1 cup lime juice
3/4 cup maple syrup
⅓ cup coconut milk
1 tablespoon vanilla extract
1/4 teaspoon salt
Topping: any Cajuu Cashews you like!
Method
Combine the dry shortcrust ingredients
Add the cold butter little by little, mixing with your fingers until it forms crumbs
Add the ice water, tablespoon at a time, using a butter knife to combine it in. Stop as soon as a dough is formed. Shape into a ball and refrigerate for at least 20mins
Roll dough out and put into a pie dish, cover with baking paper and put in baking beans. Bake for 20 minutes at 220°C until golden brown
Prepare filling:
Blend avocado until smooth
Add all other ingredients apart from cornstarch and blitz again
Finally, blitz in the cornstarch
Pour into the pie case and refrigerate for at least 3 hours
Top with Cajuu cashews and more coconut yoghurt
No Bake Salted Caramel Cashew Millionaires Protein Slices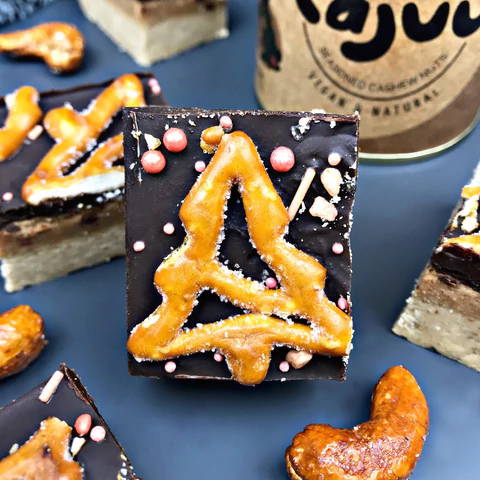 Created by lost.inreality._ on Instagram!
Recipe
How to make the Cashew Shortbread Base:
70g Cajuu Vanilla Salted Caramel Cashews
40g Protein World Salted caramel Vegan Blend
How to make the caramel:
20g Salted Caramel Protein Powder
15g Sugar Free Caramel Syrup
.5tsp Maca Powder Funktional Foods
5ml Water
How to make the chocolate topping:
30g Pure Heavenly Chocolate Salted Dark Chocolate
5g Coconut Oil or Vegan Butter Alternative
5tsp Funktional Foods Chocolate Protein
Method
Add to a blender and blend on short bursts! Once the cashews are fully blended you should start to get clumps! Continue to blend for a few more bursts!
Check your dough holds together well when squeezed if it doesn't add a little bit of liquid sweetener or water until it does!
Once your satisfied your dough will stay together, press it into a lined tin/tub and place it in the fridge to chill!
Prepare caramel:
In separate bowls mix your wet in one and dry in the other!
Slowly add in the wet to the dry, mix combined.
Spread on top of your shortbread base & return to the fridge!
Prepare chocolate topping:
Melt your chocolate & Butter together, fold through the Protein Powder & spread on top of your "Caramel"
Add few pretzels to the top before it sets! Here the Tesco's Sweet & Salty Christmas Tree Pretzels are used!
Return to the fridge until your choc hardens/your ready to eat!
Slice & enjoy!
Vegan Orange and Tangerine Smoothie Bowl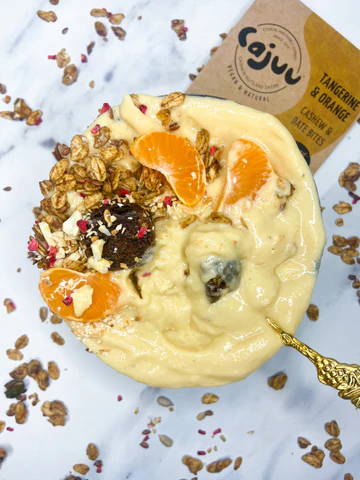 Created by munchingwithmolly_x on Instagram!
Recipe
100g frozen banana
100g frozen cauliflower
50g frozen orange
50-100ml Soy Milk or other milk alternative
30g protein power (optional)
Which ever delicious Cajuu cashews you want to top with!
Method
Blend blend blend gradually
Top with whatever you like- Just make sure to include you're favourite Cajuu snacks, we recommend the Mango Moa Cashew Nuts or the Tangerine and Orange Cashew and Date Bites!
Share your cooking creations by tagging @CAJUUOFFICIAL and using the hashtag #CAJUUCOMMUNITY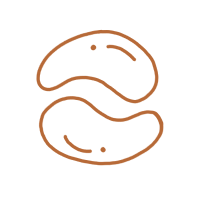 Check here for any and all events we have and will be attending, as well as any competitions we're holding on our socials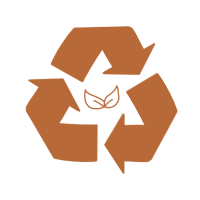 Several of you have sent in green ways to recycle, reuse and repurpose our Cajuu packaging to avoid unnecessary waste, see them here
Let customers speak for us